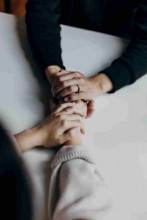 So, I'm sitting in a cool bar and meet an even cooler guy. He's sweet, charming, funny, clever – and, for once, I haven't got too many complaints about what he's decided to wear on a first date! So why am I holding back from seeming too keen? Why when he touched my hand did I pull back automatically? I pretty much flinched.
I'm a committed Christian and dating can be hard. I want to meet someone within the faith. Not just because my family will approve but also because it's so important for me to make a commitment to someone of the opposite sex who shares my Christian visions and values.
I've used regular dating sites and always tried to be upfront about my religion. But why should I have to do that? It makes me feel like I am going, 'Hang on, I'm a Christian. Is that okay?' IT IS OKAY. I am enormously proud of my faith and my love of Jesus Christ.
I have used dating sites before and connected with a guy and talked music, film, sport… and I always feel like I need to bring up my faith. But on ChristianLove.com it is completely different. ChristianLove.com gives me the freedom to be who I am and discuss my belief if I want to or use it as a way to break the ice. Either way, I choose.
Of course there are different traditions represented on the site. But there is a real understanding and respect of specific personal beliefs. My Christianity can come first if I want it to; or it come later after I have thought: 'Nice eyes. Cute smile.' I can relax and know that there won't be a stumbling block over shared faith as we get to know each other a little better.
People of all faiths now recognise that dating sites are a proven, easy and very modern way to meet a partner. It's too hard to find Mr or Miss Right in the local bar or even at church. I have dated a guy from church once and it was good. But, for me, I wanted to get to know him outside of my congregation. It didn't work.
ChristianLove.com has proven to be a real boost for my confidence and my dating skills in general. There are a fantastic number of members and everyone knows from the outset that belief is key. For me it is everything, and yet a specialist site like christianlove.com also gives you the freedom to not mention faith at all. The quiet respect and understanding of like-minded Christians is what helps you relax. And when you are relaxed and feel like you can be yourself, you look way more attractive the opposite sex. Fact!
Back in the bar I made my excuses and left that night. I felt annoyed with myself that I blew it because I couldn't just be honest. But a month later I was back with a man who I met on the site. A Christian man with the most infectious laugh I ever heard. And when he touched my hand that night? Well, I'll let you imagine the rest…