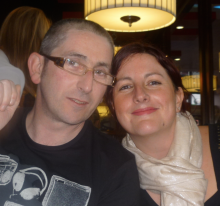 I joined your dating company on Friday 17th January 2014 for the first time. I had got to the point in my life where I was happy with my own company/ bringing up my children. I was just out of a two year strained relationship so needed space, so i put my spare time into my work, training and my friends.
But on 17/1/14 my life changed forever when I met Kieran.......A funny, honest, handsome, caring man. We messaged each other lots..... graduating to exchanging emails- mobile numbers etc. We met up on 25/1/14 and instantly hit it off,........knowing what we wanted and having the confidence to say.........and the fact that we were attracted towards each other lead to neither of us wanting to eat .......when we finally did decide what to eat we ended up sharing a curry and still left some. We spent the whole evening chatting & laughing .......I kept having to pinch myself.
Well it is 25/3/14 our 3 month Anniversary and so far we have had a romantic valentines weekend away, been invited to 3 weddings, dined out, visited the coast ........found places at the coast neither of us had visited before......so that was very special, visited my church and church activity groups I help with and many more things. Kieran has so easily slipped perfectly into my life and my children lives ......we feel like we have known him forever. He also is my support as my best friend is battling cancer and he will happily do any thing he can to help us all .
We feel so happy and blessed and look forward to our exciting future together.
I hope you have enjoyed reading this and feel as excited as I do .........Thank you for helping me find my soul mate...
With love from Kate & Kieran xx