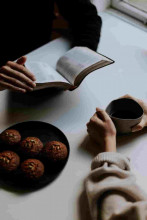 You may question whether meeting someone online is right for you. We understand that you may be nervous but dating online isn't too different to dating in person. In fact, it's easier.
Online dating allows you to meet so many more singles than you would do in real life. You'll see people on the site that are local to you but you might never cross paths with otherwise.
Online dating can also help to build your confidence. If you've been out of the dating scene for a while, getting back into it can feel somewhat overwhelming. It gives you an opportunity to get to know someone a bit before a first date. First dates can be awkward even under the best of circumstances but if you can chat with someone onsite and get to know them a little, you can eliminate some of that awkwardness and will already have some talking points. It may never completely stop your nerves, but it can help a lot and prevent any awkward silences.
Using a dating site also means you'll only have to engage with those you are interested in. Using the search filters provided on site, you will be able to narrow down the number of search results. Filters such as age, height, build, hair colour, eye colour, location and interests and hobbies will allow you to find exactly what you're looking for, all within the comfort of your own home.
If you're a Christian and you're ready to start dating, why not give Christian Love a go? The sign-up process is simple and will have you successfully registered and ready to browse within minutes! Simply complete the sign-up form at the top of the page and start browsing now.